UHMWPE Conveyor paddles
Category:
所属分类: СВМПЭ Обработанные детали
Summary:UHMWMACHINEDPARTSXINXINGcanmakecustomUHMWmachinedpartstoyourspecification:MATERIALDESCRIPTIONUHMWstandsforultrahighmolecularweightpolyethylene.Polyethylenematerialsaresemi-crystallinematerialswithexce
консультация по продукту:
Leave a message online
подробное описание
UHMW MACHINED PARTS
XINXING can make custom UHMW machined parts to your specification:
MATERIAL DESCRIPTION
UHMW stands for ultra high molecular weight polyethylene.
Polyethylene materials are semi-crystalline materials with excellent chemical resistance, good fatigue and wear resistance, and a wide range of properties (due to differences in length of the polymer chain.)
Polyethylene materials are easy to distinguish from other plastics because they float in water.
Polyethylene materials provide good resistance to organic solvents, degreasing agents and electrolytic attack.
They have a higher impact strength, but lower working temperatures and tensile strengths than polypropylene.
They are light in weight, resistant to staining, and have low
moisture absorption rates.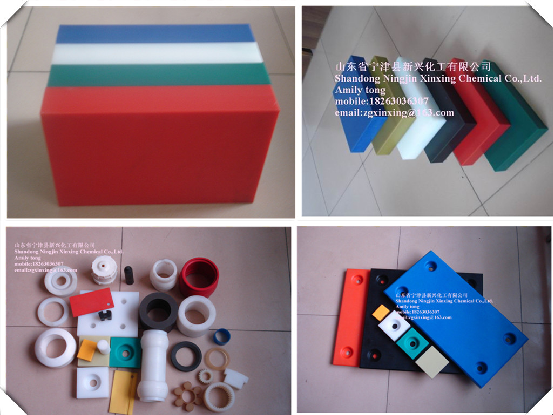 Ultra High Molecular Weight Polyethylene (UHMW PE)
Light weight (1/8 the weight of mild steel), high in tensile strength, and as simple to machine as wood, UHMW PE is the ideal material for many wear parts in machinery and equipment as well as a superb lining in material handling systems and storage containers.
UHMW PE is self-lubricating, shatter resistant, long-wearing, abrasion and corrosion resistant.
It meets FDA and USDA acceptance for food and pharmaceutical equipment and is a good performer in applications up to 180 °F (82 °C) or when periodically cleaned with live steam or boiling water to sterilize.

CUSTOM MACHINED PARTS
Processing and machining of UHMW parts take place in a completely controlled environment.
We maintain a complete record of our products.
M&P's state of the art facilities are always open for you to visit.
For a quote on your custom UHMW parts click on the email or give us a call at 86-534-5223655
Some of the machined parts we do are:
| | | | |
| --- | --- | --- | --- |
| Balls | Nozzels | Semiconductor Parts | Application: |
| Back Up Rings | Pads | Sheaves | Thick board |
| Blocks | Parts | Spacers | Fender pad |
| Bushings | Plugs | Supports | Dock bumper |
| Cams | Rings | Valve Seats | Cushion block |
| Caps | Rods | Washers | Outrigger pad |
| Guides | Rollers | Wear Pads | Wearing pad |
| Medical Parts | Seals | | Coal bunker liner |
соответствующая информация
MESSAGE ONLINE
оставить сообщение в Интернете